Tuesday, January 25, 2005
It's been pointed out to me a number of times since I began this endeavour, that to get a truly substantial event under my belt early on would provide a boost for the rest of the campaign. To that end, I've all but decided to enter the London Triathlon this year. My wife and I went down to London last August to watch my sister-in-law (Vicky) and two good friends (Neil and Timo) compete.



No one knew Vicky had such a small head until her hair was tamed by a swimming cap.

It begins with a 1500 metre swim – that's 60 lengths of your local pool – except you don't get to do it in your local pool, you get to don a wetsuit and swim the guts of a mile in the Albert Dock. And you don't get a lane to call your own – you get to swim in a mêlée that I will save a thousand words and show you a picture of.



I shall practice by swimming 60 lengths of the washing machine every night.

Assuming (and it's a fairly heroic assumption) that you don't die doing that, you get to climb out of the dock and then out of your wetsuit while you run to your bike.

Cycling in wet shorts is the sort of thing your mother probably would have warned you against, had she ever suspected that you would be stupid enough to do such a thing in the first place, but there is no time to stop and change or even towel down. Instead, you have to cycle 40km – which is nearly 25 miles – which is virtually a marathon.

Having done all that, you might think there would be some provision in the rules for a nice cup of tea and a bit of a sit down, but I'm reliably informed that it's not until you park your bike in order to run 10km that things get really nasty. Your legs protest (quite legitimately I suspect) about the abandonment of a perfectly good bicycle in favour of a much less effective pair of running shoes.



I believe the guy on the right has just spotted Neil's chest-wig and is trying not to vomit.

In the London Triathlon, the run is made worse (yes, it can be worse) by being staged over two laps of a 5km course. That means being subjected to the cruel and unusual torture of being guided mere feet from the finish line a full 5000 metres before you are allowed to cross it.



Timo crosses the finish line and indicates that he would very much like a gin and tonic.

Watching the event last year, I wondered if any of the contestants were tempted to cut corners in the swim, or come running over the finish line with arms aloft after just one lap of the run. Then I discovered that each tri-athlete carries a chip somewhere about his or her person (the shoulder being the most popular spot presumably), which is registered as it passes through various checkpoints throughout the race, making it impossible to cheat by cutting corners.

I said that I have "all but decided" to enter. The only thing holding me back is the occasional foolish notion I have to actually think about what it entails doing. I don't like deep water; in fact, I fear it, and this fear is worsened when it is murky deep water that has a hundred other people thrashing around in it beside me.

I quite like riding a bike – at least I did when last I owned one, when I was twelve – but I worry about the effects of cycling in wet shorts. I just can't imagine a scenario in which that is going to work out well.

I have grown to not loathe running as much as I used to – but so far, I haven't done more than my mile around the park at any one time, and I haven't done that for weeks now. The prospect of doing that just over six times is enough on its own to make me pause for thought, but the prospect of doing it six times having just swum the equivalent of 60 lengths of shark-infested dock and virtually cycled a marathon is quite intimidating.

Neil is doing it again this year, and has recently taken possession of a new bike. His old one (which was, appropriately, originally Terry's) is getting passed on to me, so at least I will have someone to train with and something to train on. I think I have almost managed to talk Swiss Toni into entering it too – at least, I take the fact that he did 60 lengths at the gym the other night as an encouraging sign that he's seriously thinking about it.

Entry costs £68 and closes in a few weeks. I'll do a deal with you, my mighty readership - if someone can stump up the entry fee by way of sponsorship, I'll enter without any more hesitation, repetition or trepidation. Having entered, I reserve the right to revert to being a neurotic wreck about it though.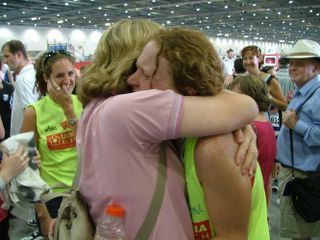 By the time you've finished, only your mother would still be willing to do this.