Friday, November 26, 2004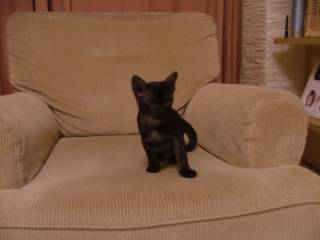 For Seb Coe, it was Steve Ovett. For Carl Lewis, it was Mike Powell. For Michael Phelps, it was Ian Thorpe. All great athletes have their nemesis – their one great foe that repeatedly thwarts their chances of achieving the greatness they seek. I have mine. Her name is Boo.

This morning, I ran my mile in seven and three-quarter minutes, but at least 20 seconds of that time were spent first trying to prevent Boo coming with me when I left, and then trying to stop her escaping when I returned. I time myself using my phone, which I leave just inside the front door. She sits and waits by it, knowing her moment will come.

She is allowed outside, but she's still young and stupidly bold, so we try to restrict her outdoor pursuits to the back of the house, away from the road. But cats (kittens especially) don't speak English, so, when I leave for my run and when I come back, I have to resort to wrestling her back from the door. This is about as easy as juggling spaghetti.

In terms of a progress report, this may look more like excuses again, but I do think I'm running faster than my recent times have reflected – I'm just not getting any better at outwitting the kitten.